What is self-love? Well it can differ from person to person on a more detailed plan but in general there are some similarities. Let's start with a question.
How would you treat yourself on a daily basis if you were another person, in a kind loving relationship with you? Are you good to yourself? Is your mind kind to you, your body and soul?
This is up to you to answer but let me assure you that self-love isn't about being pure narcissistic. It's not about "me, me, me." It's not about fighting the world to express ourselves or to get what we want. Self-love is more about looking at ourselves with understanding, acceptance and love.
In other words we can say that self-love is about owning our own power and acting from a place of loving kindness toward ourselves (and others).

Self-Love: The more we love ourselves the more likely we will nod nod to:
1.We invite ownership, creation, and power into our lives and let go of blame, shame, and anger.
2. We feel, hear, and believe in our own inner power. Other peoples disbelieve in us doesn't matter; what matters is how we feel about ourselves and other loving beings.
3.We are more peaceful because we accept ourselves — including our strengths and weaknesses and take loving care of it.
4. We become responsible for our own happiness because we know that we are the main source of our own happiness.
5. We acknowledge we are the source of the power to change our habits, lives, futures, relationships etc when we let love flow through us.
6. We become more passionate, compassionate, empathic, authentic and intuitive because we stand strong in our power and with an open heart to give and receive.
7. We connect with and embrace a deeper connection and sense of oneness with the world and its inhabitants and thereby let go of loneliness and the feeling of being separated.
8. We let go of competition and comparing ourselves to others. Because we are on our own path and therefore, we'll always be enough.
9. When we love ourselves, we give birth to more creativity and inspiration because we are more open to receive on all good levels.
10. We attract more harmony, peace and significance in our interaction with others.
11. We let go of keeping ourselves small in this world and allow growth instead, just like the tree that grows to provide shade and food for an infinite number of people. The more we grow, the more we spread love, compassion and joy – for the benefit of all.
12. We become more aware of our thoughts and how we react when we think them. We take loving care of them, observe them and we choose to learn from them and sometimes invite stillness instead into our lives.
13. We become more independent and feel safer because we know that we will always be right here for ourselves. There just isn't room for belittling persons in our lives.
14. We shine naturally without working for it or fighting to get it.
15. We create more abundance in every area of life without the need to fight or push to get it.
This was only 15 breathtaking points there are many many many more powerful benefits to self-love. Anyway I hope it will inspire you to love yourself even more – the benefits are plenty so why not ?
And no worries I will write more about love, compassion, kindness, joy and much more of all those ridicules nice vibes.
Until next time I will invite you to read:
7 Studies That Proves Power Benefits of Being Compassionate
and Positive Emotions & Negative Emotions
With (Self-) Love, Joy and Compassion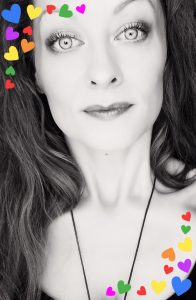 Nb. If you enjoyed this article you might like to make a PayPal donation to Christine Boegh. For sure it will be super appreciated and bring much happiness & joy.
Feel The Love Vibes ?